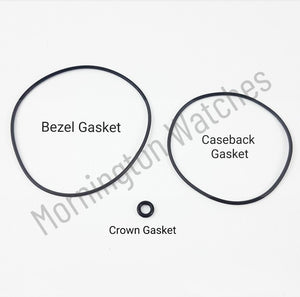 Vintage Seiko Diver Gasket Pack - 6105-8110 etc
Regular price £11.99 Sale
New replacement set of quality aftermarket Nitrile (NBR) rubber gaskets for the following models:
Seiko 'Captain Willard' 6105-8110
Included:
1 x Case back gasket (OC3060B substitute)
1x Rotating bezel gasket (O

Z3660B or 

OC3660B substitute)
1x Crown gasket
PLEASE NOTE: To replace the crown gasket on this model requires the crown to be disassembled as it is captive within the crown. This is a tricky job and should only be attempted by a competent watchmaker with the correct knowledge and appropriate tools. 
You will also require silicon grease to lubricate the gaskets prior to fitting to ensure that the gaskets seal properly (not included). We recommend a silicon grease applicator (the sponge type).
These gaskets are an exact fit and should provide a water resistant seal to your Seiko diver providing that the case and crown are clean and in good condition with no rust/corrosion or wear.
Due to the vintage nature of the watches these gaskets are for we do not accept responsibility for any water ingress that may occur when these have been fitted.